February 20, 2021
Posted by:

econadmin

Category:

Latest Event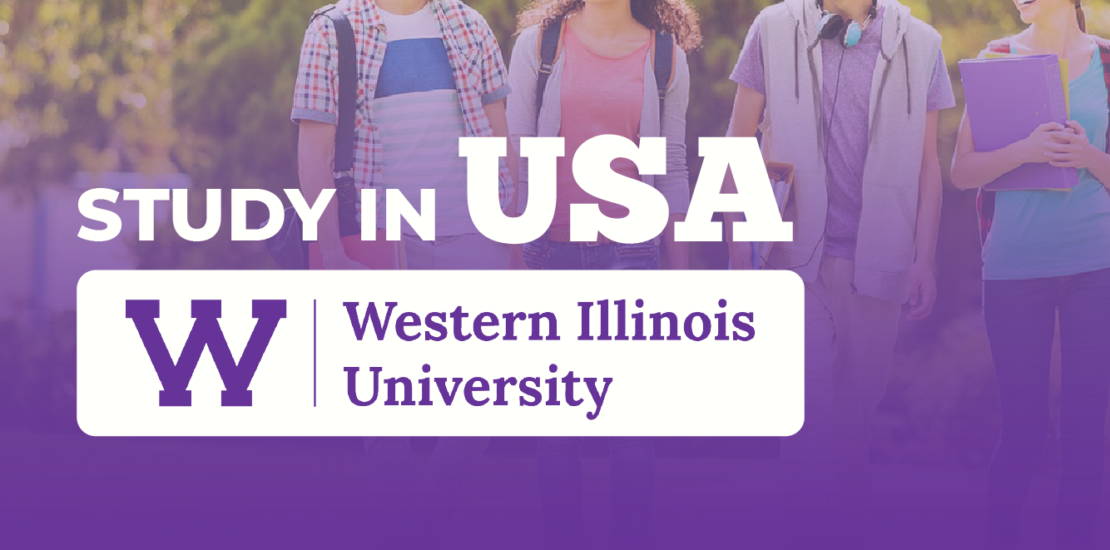 Study in USA at Western Illinois University with 3450$ Tuition Fees, 4000$ Scholarships, 8000$ Assistantship, 8400$ Stipend & Applying with MOI. You can avail the opportunities only applying with Express Consultancy Limited from 23-28 February joining the application week of Western Illinois University, USA.
Western Illinois University is one of the largest public universities in the USA with 53 building on an excessive land of 1000 Acres. Over the years Western Illinois University has been a first choice name for international students. The university offers many opportunities for domestic as well as international students for research studies. A very suitable university for Masters level students where there is an opportunity to get full time and part-time assistantship. Many students from South Asia choose this university for higher education every year. They are very generous in providing scholarships along with a huge waiver of all academic costs including tuition fees. They also offer waiver on housing and meals and one of the attractive aspects of this university is that they provide stipend to international students on a monthly basis.
While everyone is hopeful that immigration law will be much easier under the new US administration, the new government is preparing to announce a new immigration package that will allow international students under STEM courses to apply for an American green card without the HB1-S category. Therefore, it is hoped that America will once again become an attractive and first choice name for gifted students.
Express Consultancy Limited is an authorized agent of Western Illinois University who assists Bangladeshi students in everything starting from admission and visa to scholarships, assistantships, accommodation, and etc.
Western Illinois University offers many different facilities to the students of Express Consultancy Limited only, in addition to scholarships, there are benefits like application fee waiver. Express Consultancy limited is going to submit the application for admission of Bangladeshi students to western Illinois University for one week from March 1 to March 7 without any application fee.
Western Illinois University is offering the Students 4000$ yearly (2000$ per semester) Scholarships depending on their Bachelor qualifications (CGPA). Students will have to pay only 3450$/semester. Students are able to get a waiver of 8,000$ in a year from the whole cost if they get assistantship. Also there is huge opportunity to earn a full stipend of 8400$ or partial stipend of 5400$ depending on the academic performance at the University. Some of the faculties of this university like to offer instant assistantship for the international students and for this to avail students from Physics, Chemistry, Biology and Computer science background are mostly entertained. Even there is no requirements of IELTS/GRE/GMAT/ or TOEFL from the University & student can apply only with MOI because the university believe that they should judge a student's caliber on the basis of their performance of academic 4 years of study rather than a one sitting for an exam like GRE, GMAT, IELTS or TOEFL. Due to the pandemic exam as such are not being taken place in many countries as it is held in normal situation. So, they cannot have adopted different admission criteria for different countries. Genuine students should capitalize this opportunity generously ever.
This is the ever easiest way to go USA for higher studies with a long vision with the new Administration of BIDEN. The exciting thing is that Biden Administration going to offer new immigration package and now student can apply for Green Card without HB1-S.
→  Opportunities of Western Illinois University at a glance for the students of Express Consultancy Ltd:
☑  Up to 4000$ Scholarships (yearly)
☑  Per Semester tuition fee only 3450$
☑  8000$ waiver from all costs for the students of Express Consultancy Ltd, Bangladesh (yearly)
☑  8400$ stipend on full Assistantship (yearly, Depending on the best academic performance)
☑  5400$ stipend on partial Assistantship (yearly, Depending on the better academic performance)
☑  24 hours' Free public transportation offered for International students at the town.
☑  Applying with MOI
☑  No GRE, GMAT, TOEFL, IELTS
☑  Public University
☑  Complete Free transportation in the City for the students
☑  Offerings of scholarship from the University generally helps the Embassy to grant the visa more liberally
☑  Students completed BSc in Physics, Chemistry, Biology and others will get preferences.
→ Program of Study at Western Illinois University
☑  Accountancy
☑ Alternative Teacher Licensure
☑ Applied Statistics and Decision ☑ Analytics
☑ Biology
☑ Business Administration
☑ Chemistry
☑ College Student Personnel
☑ Communication
☑ Community and Economic Development
☑ Computer Science
☑ Counseling
☑ Curriculum and Instruction
☑ Educational Leadership (Ed.D.)
☑ Educational Leadership (M.S. Ed. and Ed. Spec.)
☑ Educational Studies
☑ Engineering Technology
☑ English
☑ Environmental Science: Large River ☑ Ecosystems (Ph.D.)
☑ GIScience and Geoenvironment
☑ Health Sciences
☑ History
☑ Instructional Design and Technology
☑ Kinesiology
☑ Liberal Arts and Sciences
☑ Mathematics
☑ Museum Studies
☑ Music
☑ Physics
☑ Political Science
☑ Psychology
☑ Public Safety Administration
☑ Quantitative Economics
☑ Reading
☑ Recreation Park & Tourism ☑ Administration
☑ Sociology
☑ Special Education
☑ Speech Pathology
☑ Sport Management
☑ Theatre
NB* Please note that if you want to apply at WIU carry your documents during Application Week.
Express Consultancy – A Rare Exposure